Forest Flora
has been established to guide and support restoration of natural areas in the Waikato. We have an enthusiastic team experienced in all aspects of restoring the plant life of forests and wetlands. Our nursery is dedicated to producing quality ecosourced plants of all the native species which give the Waikato Landscape its unique character.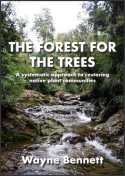 "THE FOREST FOR THE TREES"
A valuable new resource has just been published for those interested in ecological restoration, written from Forestflora's long experience.
Click
HERE
to buy a hard copy